Antipollution flap
WICLINE 65 evo
Click on the play button to watch the video.
Air quality in buildings: a major challenge
In France, air pollution is the second cause of preventable death.
The air quality in a building is essential for the health, well-being and productivity of all those living there or working there every day.
Innovative joinery solution
To address this issue WICONA has developed a new version of its natural ventilation flap equipped with an innovative interior air purification and renewal system.
System automation
When the interior air quality level is insufficient, the sensor sends the information to the BTM system. A order is sent to the antipollution flap. The filter material is automatically lowered, then the ventilation flap opens by means of its integrated motor.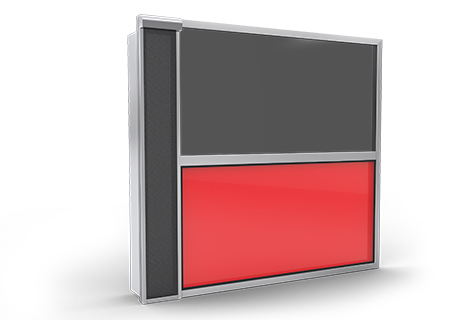 Product presented during Batimat 2019 with Smartglass electrochromatic glazing and Shadow Box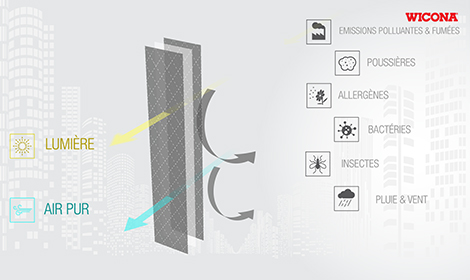 Totally depolluted air
The three-layer 0.1 μm nano membrane has a high filtration capacity which can trap over 95% of particles less than or equal to 2.5 micrometers:
Polluting emissions
Natural phenomena (rain, wind, etc.)
Allergens
Volatile organic compounds (VOC)
Insects
These particles are trapped mechanically. The membrane contains no chemical substances.
Technical characteristics:
Made with Hydro REDUXA 4.0 low carbon aluminium
Cradle to Cradle Silver Certification
Maximum sash dimensions: L 180 x H 3000 mm ou L 250 x H 3000 mm
Maximum weight: 80 kg
With smartglass electrochromatic glazing, instantaneous variation from bright to dark (LT: from 1% to 50%)
Performances:
Thermal: Uw up to 1.2 W/(m²K)
Air (NF EN 12207) - Water (NF EN 12208) - Wind (NF EN 12210): Class 4 – 9A – C5
Intended market:
Hotels

Schools

Health

Nursery
Offices
Tertiary
Project solution