BATIMAT 2019
Low carbon aluminum stand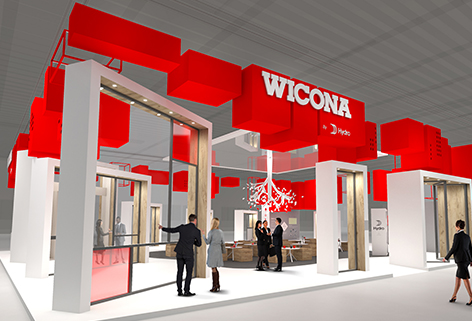 New vision of the city
German architecture firm Atelier Seitz proposed a conceptual representation of the city. An imaginary world based on the work of François Schuiten where the New York verticality merges with the Ombrière mirror of the Old Port in Marseilles designed by architect Norman Foster. To create a magical city from which the calm and reassuring presence of trees emerges through its forest of hanging buildings. The vital green component of the eco-responsible city. On seeing his/her own reflection in this glass ceiling, the visitor understands that we all have a major part to play in the present changes.
Sustainable approach
All WICONA's new door, window and façade solutions presented are made of Hydro CIRCAL 75R recycled aluminum or Hydro REDUXA 4.0 low carbon aluminum.

After the trade show, 80% of the exhibited systems will be reused:
Sent to Belgium, to Landen to be exhibited in the showroom
Sent to Toulouse to further the innovation studies
The prototype frame façade, specially developed for the FLOW project will be sent to the Hydro plant in Dormagen (Germany) to reintegrate the recycling chain