Tall height hinged door
WICSTYLE 65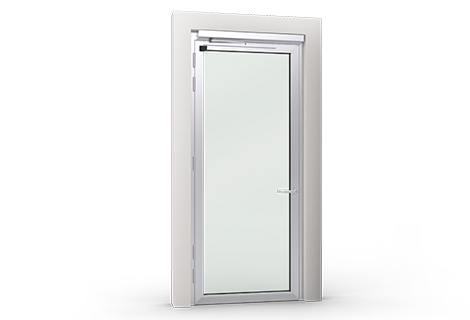 Adaptable system
The WICSTYLE range 65 mm hinged door module renowned for its qualities, durability and ease of use can be transformed into a multitude of configurations, open-in or open-out, with one or two opening sashes:
Intense traffic

Swing

Finger protection

Panic version

Anti-break-in

Fire door

Disabled persons access threshold
Credits: CAMPUS Veolia Environnement (69)
Architect: Arte Charpentiers - Metalbuilder: Decotech - Photograph: G. Bruneel
Large dimensions
With its new hardware it is more than ever the appropriate response for the large dimension solutions (3 meters). The new lock with countershaft and lift facilitates locking which can be delicate with large dimensions.
Esthetic and economical solution
WICSTYLE 65 door totally integrates with the WICTEC façade and WICLINE window systems. The flashings, architraves and also the gaskets, cleats and other basic elements are shared in common.
In addition to their visual unity, this uniformity of solutions optimizes stocks and fabrication time, ensuring an excellent profitability of the range.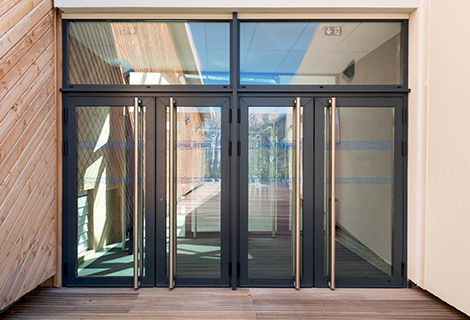 Complexe thermal de Roquebillière (06)
Architects: Coste Architecture / Chevalier-Triquenod
Metalbuilder: DIFRAL - Photograph: Hervé Fabre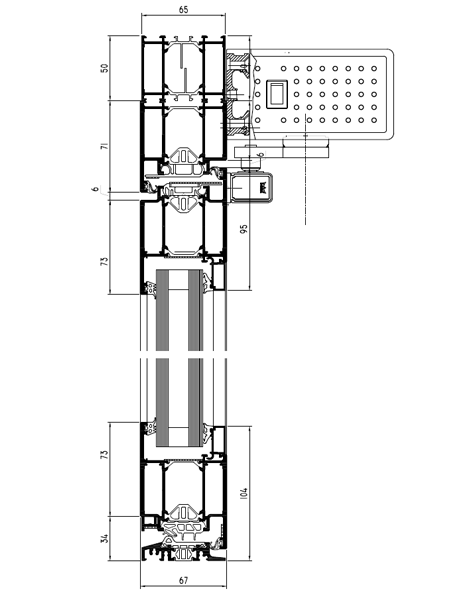 Technical characteristics:
Made with Hydro REDUXA 4.0 low carbon aluminium
Cradle to Cradle Silver C

ertification

Maximum sash dimensions: L 1500 mm x H 3000 mm

Three-leaf version clamp hinges
Maximum weight per leaf: 200 kg
Performances:
Thermal: Uw = 1.7 W/(m²K) with Ug = 1.1 W/(m²K)

Air (NF EN 12207) - Water (NF EN 12208) - Wind (NF EN 12210): Class 4 - 7B - C2
Acoustic: Rw (C ; Ctr) = 43 (-2 ; -5) dB
Bullet resistance EN 1522: FB4 S / FB4 NS
Burglar resistance EN 1627: RC1N, RC2N, RC2, RC3
Fireproof E30 as per the standards EN 1634-1 and EN 13501-2
Repeated opening / closing: Class 8 / 1.000.000 cycles, according to EN 12400
Intended market:
Commercial

Tertiary

Of

fices
Available on the market